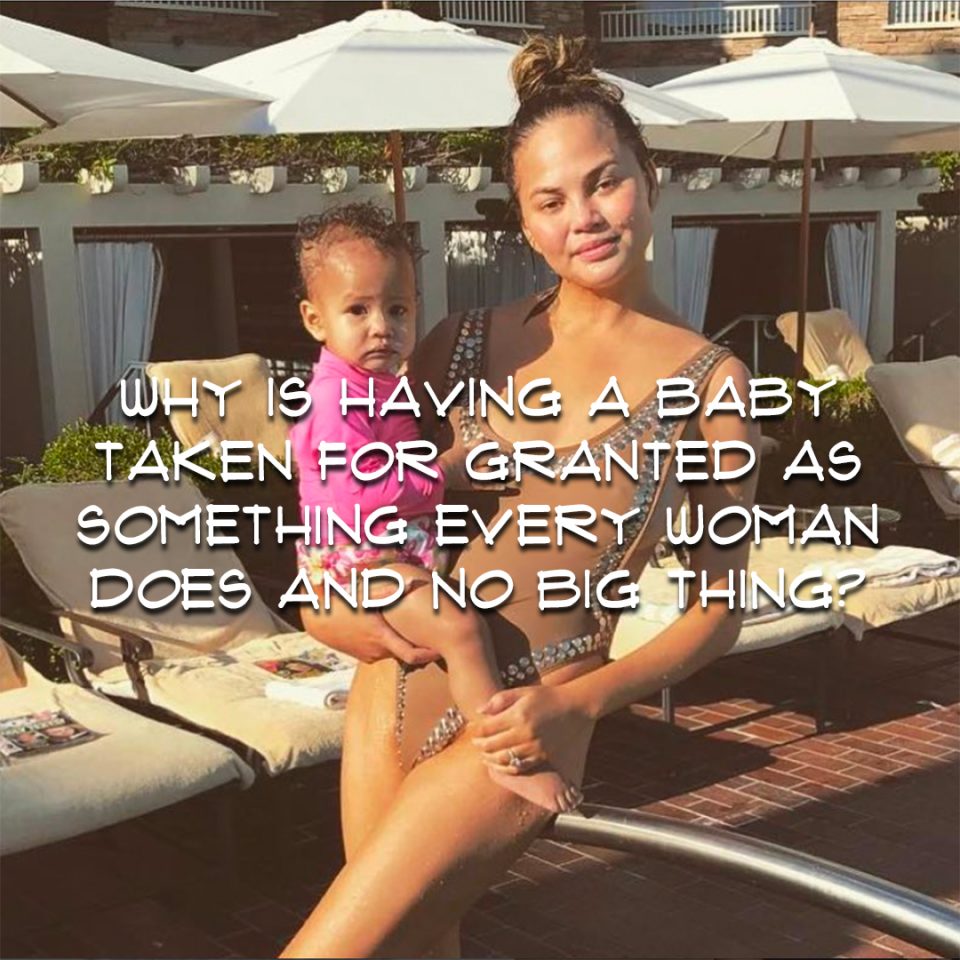 WHY IS HAVING A BABY TAKEN FOR GRANTED AS SOMETHING EVERY WOMAN DOES AND NO BIG THING?
HAVING A BABY IS TAKEN FOR GRANTED AS SOMETHING EVERY WOMAN DOES AND IS NO BIG THING. THE TRUTH IS, IT IS A BIG THING AND WOMEN FOREVER BARREL THROUGH AND FOR THE MOST PART MAKE IT LOOK THAT WAY.  
THE HORMONAL ROLLER COASTER WOMEN GO THROUGH IN A LIFETIME IS PUNCTUATED BY THE NUMBER OF CHILDREN SHE HAS. NOT EVERY WOMAN GOES THROUGH EACH PREGNANCY THE SAME WAY. IT IS HARDER TO HAVE CHILDREN NOW. SO MUCH IS BEING DONE TO ENSURE A PREGNANCY, AND A HEALTHY ONE AT THAT. POST PREGNANCY IS ANOTHER HORMONAL DIP. HOW CAN THIS POSSIBLY NOT BE AN EMOTIONAL RIDE FOR NEW MOMS.
FROM THE TIME WE ENTER PUBERTY, THE FIRST HORMONAL BLAST BEGINS AND THEY STAY WITH US UNTIL WE EXIT MENOPAUSE. THIS IS A RIDE NO ONE TELLS US ABOUT, AND WE GO THROUGH IT LIKE THE INCREDIBLY POWERFUL BEINGS WE ARE.  
ENDURANCE, STAMINA, AND WILL, FOR THE MOST PART, GET WOMEN THROUGH IT ALL, BUT IT ISN'T ALWAYS ENOUGH WHEN YOUR HORMONES ARE TAKING YOU FOR A RIDE. IT IS TIME FOR MORE CONVERSATION ABOUT THIS TOPIC. WE NEED TO TALK ABOUT HOW WE CAN MODIFY THE EFFECTS OF HORMONAL CHALLENGES THROUGH FOOD EXERCISE, MEDITATION AND AWARENESS. 
PLEASE ENTER TO BE A PART OF THIS CONVERSATION. WE ARE PLANNING DISCUSSIONS AND PANELS TO OPEN DISCUSSION ABOUT THIS TOPIC.