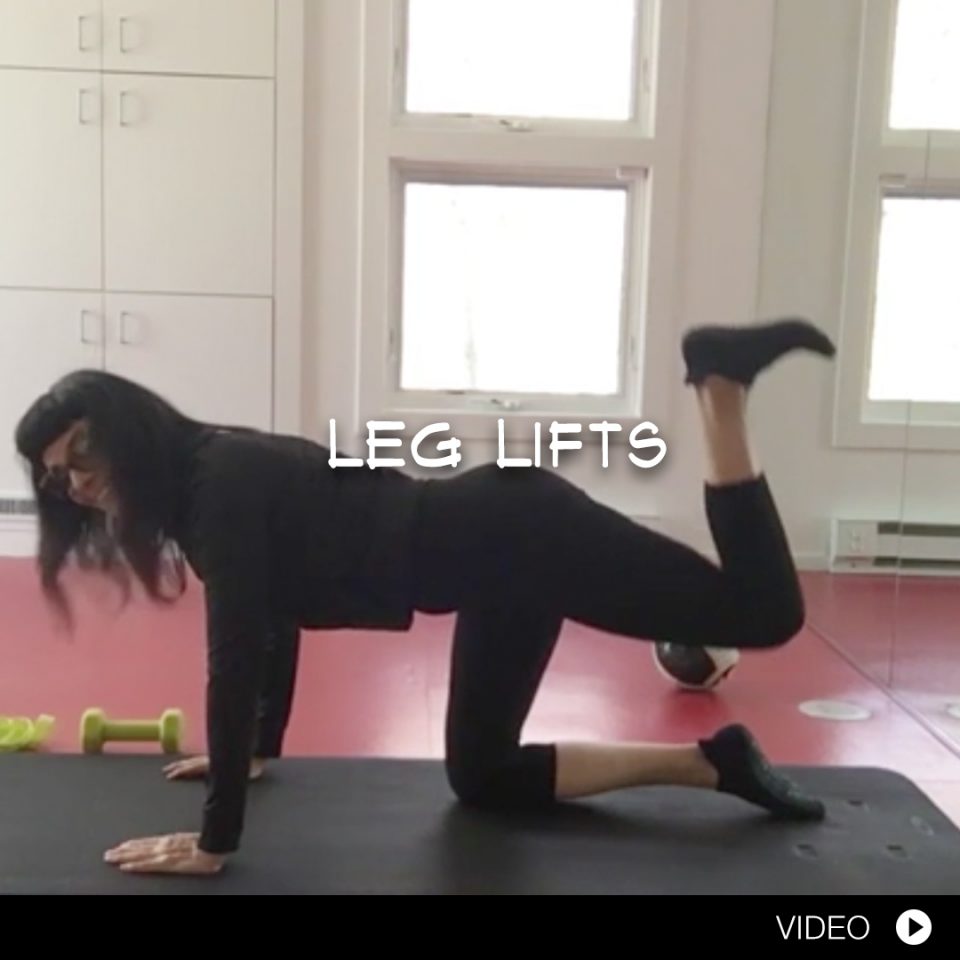 LEG LIFTS
​
I ALWAYS KEEP IN MIND THAT ANY WORKOUT WITH GOOD FORM AND A SERIES OF WELL-THOUGHTOUT MOVEMENTS WILL RESULT IN A CHANGE AND IMPROVEMENT IN THE SHAPE OF YOUR BODY. ALL EXERCISE IS GOOD BECAUSE YOU ARE MOVING, BUT GOOD FORM AND GOOD METHODOLOGY CREATE THE CHANGE.
THE DIFFERENCE IS: DOING LEG KICKS OR MOVEMENTS WITHOUT GOOD FORM CAN LEAD TO INJURIES AND BACK ISSUES. THE PAIN YOU MAY FEEL AFTER A FULL BODY WORKOUT SHOULD BE THE BURN AND BUILDING OF TONE AND MUSCLE STRUCTURE, NOT AN ACHING LOWER BACK.
THE PRINCIPLES TO THINK ABOUT TEND TO ALWAYS BE BASED ON ENGAGING THE CORE. THANKS TO JOE PILATES, WE ALL UNDERSTAND THAT THE CORE IS THE POWERHOUSE OF THE BODY AND WHERE ALL ENERGY SHOULD EMERGE FROM TO DO A MOVEMENT PROPERLY.
THE ALIGNMENT OF ALL EXTENSIONS REALLY COMES FROM PUSHING ENERGY OUT FROM THE BODY EITHER THROUGH THE LEGS AND FEETS OR ARMS AND HANDS. REMEMBER TO KEEP THE NECK ALIGNED STRAIGHT, THROUGH THE SPINE TO THE TOP OF THE HEAD – AGAIN REACH OUT FROM THE NECK AS THIS IS WHAT CREATES LONG ELEGANT FORM.
WHEN USING ARM OR LEG WEIGHTS, THE SAME RULE APPLIES: STAY SAFE BY STAYING IN PERFECT FORM AND KEEPING THE CORE ENGAGED FOR A BEAUTIFUL, TONED BODY. PRESS YOUR FEET INTO THE GROUND AND PUSH THE UPPER BODY UP TO THE SKY – LIFT AND ELONGATE – WHILE THE ENGAGED CORE PROTECTS YOU FROM INJURY.
I LOVE TRYING DIFFERENT MOVEMENTS BUT ALWAYS KEEP IN MIND THE FORM THAT I LEARNED FIRST THROUGH THE ROMANA TEAM REPRESENTING JOE PILATES AND CONTINUING ON WITH PHYSIQUE 57.