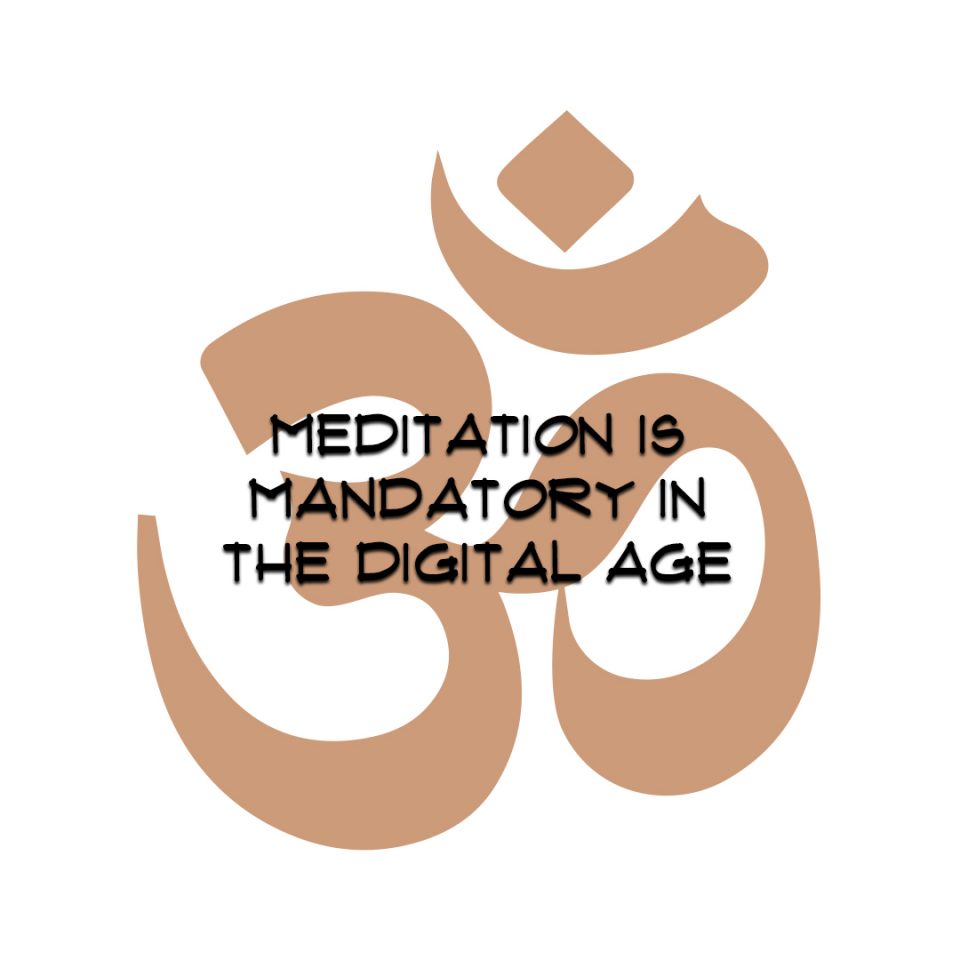 MEDITATION IS MANDATORY IN THE DIGITAL AGE
MEDITATION, TO ME, CAN BE AS SIMPLE AS SITTING QUIETLY IN A ROOM AND JUST NOT THINKING ABOUT ANYTHING. JUST LETTING YOURSELF SORT OF DISSOLVE INTO THE SPACE AND CREATING A QUIET TIME FOR YOURSELVES.
SOMETIMES I DO THAT DURING THE DAY. I'LL GO TO THE BATHROOM, I'LL PUT THE LID DOWN, TURN OFF THE LIGHTS, AND I'LL SIT THERE AND JUST REALLY KIND OF QUIET MYSELF DOWN, THINK ABOUT THE SPACE I'M IN, AND THEN STOP THINKING AND LET MYSELF JUST GO INTO THE SPACE. IT'S THE BEST SECRET I HAVE THAT I'D LIKE TO SHARE WITH EVERYONE. NO ONE WILL BOTHER YOU IN THE BATHROOM. JUST GO IN THERE AND DO THAT WHENEVER YOU NEED TO. AND IF IT MEANS LIGHTING A CANDLE OR DOING WHATEVER TO KIND OF COMPLETE THE EXPERIENCE, KEEP A CANDLE IN THE BATHROOM. LIGHT IT WHEN YOU GO IN. SIT THERE MAYBE TEN MINUTES. IT'S FANTASTIC. YOU CAN MEDITATE IF YOU LIKE, OR JUST SIT THERE AND JUST LET THE WEIGHT ON YOUR SHOULDERS KIND OF DISAPPEAR.
I'VE DONE TM AND I'VE DONE BIOFEEDBACK AND ALL OF THAT, AND I STILL DO FORMAL MEDITATIONS. BUT IT ISN'T ALWAYS CONVENIENT. IF EVERYTHING IS AN EFFORT, YOU JUST AREN'T GOING TO DO IT. IT'S NOT AN EFFORT TO GET UP FROM YOUR DESK AND GO INTO THE BATHROOM AND CLOSE THE DOOR AND JUST KIND OF QUIET YOURSELF. AND WHEN YOU KNOW YOU HAVE IT ANY TIME, THERE'S SORT OF A COMFORT IN THAT TOO. YOU ALWAYS HAVE A PLACE TO GO MEDITATE, AND THAT'S THE NEAREST BATHROOM.