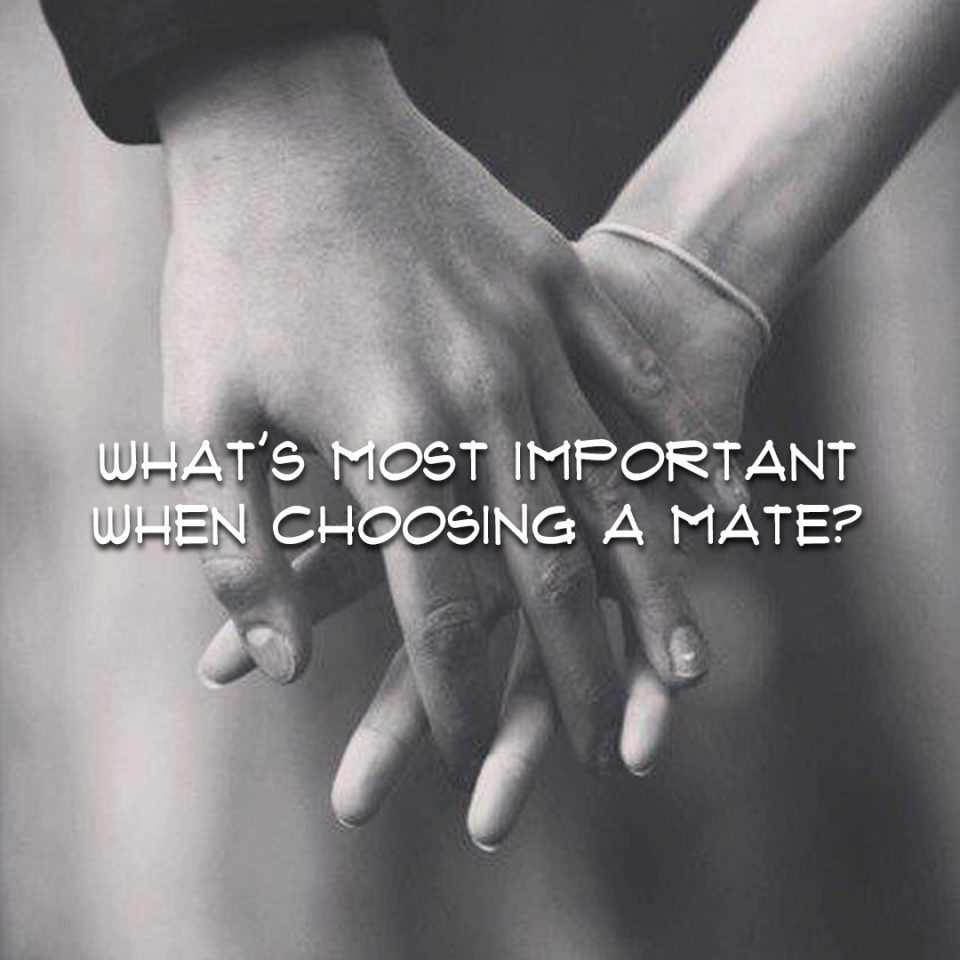 WHAT IS MOST IMPORTANT IN CHOOSING A MATE?
1. MAKES YOU LAUGH
2. HAS TONS OF MONEY
3. SHARES SAME POLITICAL PHILOSOPHY
4. IS VERY GOOD LOOKING
5. THINKS YOU ARE THE BEST THING EVER
I RECENTLY DID AN INSTAGRAM SURVEY TO FIND OUT WHAT IS MOST IMPORTANT IN CHOOSING A MATE. "THINKS YOU'RE THE BEST THING EVER" WON, AND "MAKES YOU LAUGH" CAME IN A CLOSE SECOND.
THERE IS NO QUESTION THE TOP PICK WAS CLEARLY MOST IMPORTANT. VERY OFTEN IT TAKES LOTS OF LESSONS TO LEARN THAT WHATEVER FLAWS YOU THINK YOUR HAVE LEAD YOU TO UNDESIRABLE TYPES WHO TREAT YOU AS SUCH AND DON'T THINK YOU ARE THE BEST THING EVER. PLENTY OF TIME IS SPENT TRYING TO WIN OVER GUYS WHO DON'T DESERVE YOU, AND DISRESPECT YOU. IN ORDER FOR YOU TO CONNECT TO A MATE THAT THINKS YOU ARE THE BEST THING EVER, YOU HAVE TO BELIEVE IT YOURSELF. THAT CAN TAKE SOME SERIOUS INTROSPECTION AND CONVERSATION WITH FOLKS WHO LOVE YOU
FIRST, WE ALL NEED TO OWN UP TO THE FACT THAT WE ALL EXPERIENCED MISHAPS IN OUR CHOICES. YES, THIS AS THEY SAY, IS HOW WE LEARN LESSONS. BUT THE PAIN AND THE HUMILIATION THAT COMES FROM BEING TREATED DISRESPECTFULLY IS WORTH MAKING CHANGES SOONER RATHER THAN LATER.
I AM A GREAT BELIEVER IN LISTS. MAKE A LIST OF EVERYTHING YOU THINK IS A WEAKNESS OR CHARACTER FLAW THAT YOU ARE NOT PROUD OF. THEN MAKE A LIST OF TRAITS YOU BELIEVE ARE YOUR BEST ATTRIBUTES AND WHERE YOU FEEL MOST CONFIDENT.
IT IS MOST LIKELY THAT SOME OF YOUR SELF-ESTEEM ISSUES MAY ACTUALLY COME FROM YOUR BODY IMAGE. THIS IS CLEARLY NUMBER ONE IN SETBACKS TO OUR POWER AND SELF ESTEEM. SO INSTEAD OF EXPECTING THAT YOU WILL LOSE WEIGHT ONE DAY AND WILL FIT INTO THE CLOTHES YOU LOVE THEN YOU WILL GET OUT THERE MORE, WELL… THIS IS THE TIME TO START TAKING CONTROL OF HOW YOU LOOK AND FEEL ABOUT YOURSELF 
1. GO TO YOUR KITCHEN AND GET A BIG TRASH BAG.
2. THROW AWAY ANYTHING THAT HAS SUGAR OR IS A PACKAGED CRACKER,  A CHIP ETC. YOU KNOW WHAT I MEAN!
3. SODAS, TEAS AND OTHER BEVERAGES WITH SUGAR — THROW THEM OUT!
   DO IT NOW!
4. THROW OUT THE KETCHUP, MUSTARD, MAYO AND ALL DRESSINGS.
5. DISPOSE OF ANY DIET ANYTHING, ESPECIALLY FAKE SUGARS.
6. CEREALS – THROW THEM OUT UNLESS THEY HAVE NO SUGAR AND ARE ORGANIC.
AFTER CLEANING OUT THE FRIDGE AND THE CABINETS, REMOVE IT ALL FROM YOUR HOME ASAP.
NOW GET THE FOLLOWING:
1. OLIVE OIL, LEMONS, SEA SALT
2. NUTS AND BERRIES, ESPECIALLY BLUEBERRIES BECAUSE THEY HAVE THE LEAST AMOUNT OF SUGAR
3. HAVE PLENTY OF WATER IN THE HOUSE, FILTERED IS GREAT
4. GO TO THE ORGANIC MARKET AND GET FRESH GREENS OF ANY KIND.
INCLUDE COLORFUL VEGETABLES
5. EGGS – CAGE FREE, HORMONE FREE – FOR PROTEIN
NOW YOU HAVE A GOOD START.
FROM THIS SELECTION THERE ARE A NUMBER OF MEALS AND SNACKS YOU CAN MAKE THAT ARE DELICIOUS AND SATISFYING. THEY WILL TASTE SO GOOD THIS WILL BE APPEALING ENOUGH TO MAKE IT PART OF YOUR LIFESTYLE
NEXT IS EXERCISE. THIS NEEDS TO BE AS BUILT INTO YOUR LIFESTYLE AS BRUSHING YOUR TEETH. PICK AN EXERCISE ROUTINE NEAR YOUR WORK OR HOME. MAKE IT SUPER CONVENIENT. NOTICE I PUT THIS BEFORE WHAT TYPES OF EXERCISE. THE LOGISTICS OF MAKING YOUR WORKOUT AS CLOSE BY AS POSSIBLE MEANS YOU CAN DO THIS EVERYDAY.
SEARCH FOR THE CLOSEST GYMS OR STUDIOS AND VISIT THEM TO SEE THE ENVIRONMENT AND THE VIBE, AND SPEAK WITH THE STAFF TO SEE IF THIS FEELS GOOD TO YOU. NOW YOU HAVE CHOSEN YOUR WORKOUT LOCATION. YOU START BY BOOKING SIX CLASSES AND YOU BEGIN YOUR ROUTINE.
NEXT YOU WILL MAKE SURE YOU ARE GETTING A GOOD NIGHT'S SLEEP. YOU NEED THIS TO BE MENTALLY AND EMOTIONALLY BALANCED IN ORDER TO TAKE ON THIS TRANSFORMATION, TO BE THE BEST YOU, TO REACH YOUR POTENTIAL, AND IN TURN BE A CANDIDATE FOR SOMEONE WHO THINKS YOU ARE THE BEST THING EVER, BECAUSE YOU ARE. SLEEP IS AS IMPORTANT – IN FACT, STUDIES SAY EVEN MORE IMPORTANT – THAN FOOD AND EXERCISE.
BE SURE YOUR BEDROOM IS ONLY FOR SLEEPING AND NOT A DEPOSITORY OF THINGS THAT ARE UNRELATED. BE SURE YOUR BED IS BEAUTIFUL. MAKE THE BED EVERYDAY AND MAKE SURE THE ROOM IS ALWAYS TEMPERATURE CONTROLLED AND SMELLING GOOD. BE SURE TO HAVE THE MOST COMFORTABLE BED.
NOW YOU HAVE THE GROUNDWORK FOR CREATING A FIT, HEALTHY BODY AND MIND. THE RESULTS ARE THAT YOU AUTOMATICALLY FEEL GOOD ABOUT YOURSELF, AND YOU CAN TAKE ON THE WORLD.
NOW WE GO BACK TO THE LIST OF THINGS YOU NEED TO WORK ON AND THE ATTRIBUTES THAT ARE YOUR STRENGTHS. I CAN ASSUME THAT NOW YOUR LIST OF CHALLENGES IS GETTING SMALLER, AND YOUR ATTRIBUTES ARE BEING APPLIED TO SOLVING THE NEGATIVE LIST.
WHAT IS LEFT ON THE LIST? WHY IS IT STILL THERE AND WHAT WILL YOU DO STRATEGICALLY TO REMOVE IT FROM YOUR LIST? THIS IS IN YOUR HANDS. YOU CAN ASK FOR HELP, BUT AT THIS POINT, MAYBE SOME SIX WEEKS FROM THE START OF THIS CHALLENGE, YOU SHOULD BE ABLE TO SOLVE ALMOST EVERYTHING. YOUR RATING OF WHO YOU ARE AND WHAT YOU DESERVE IS HIGHER, AND YOU ARE THE BEST THING EVER, JUST AS YOU CAN EXPECT YOUR MATE TO BE.
THEN LETS GET REAL. AFTER ALL OF THIS SELF-INTROSPECTION AND LIFESTYLE ADJUSTMENTS, YOU NEED TO LAUGH GIRL!! IT SURE HELPS TO BE LAUGHING DOWN THE AISLE AND THROUGH LIFE'S JOURNEY!! HERE'S TO YOU!! MAKE THE LIFE YOU WANT HAPPEN! XONK!
.