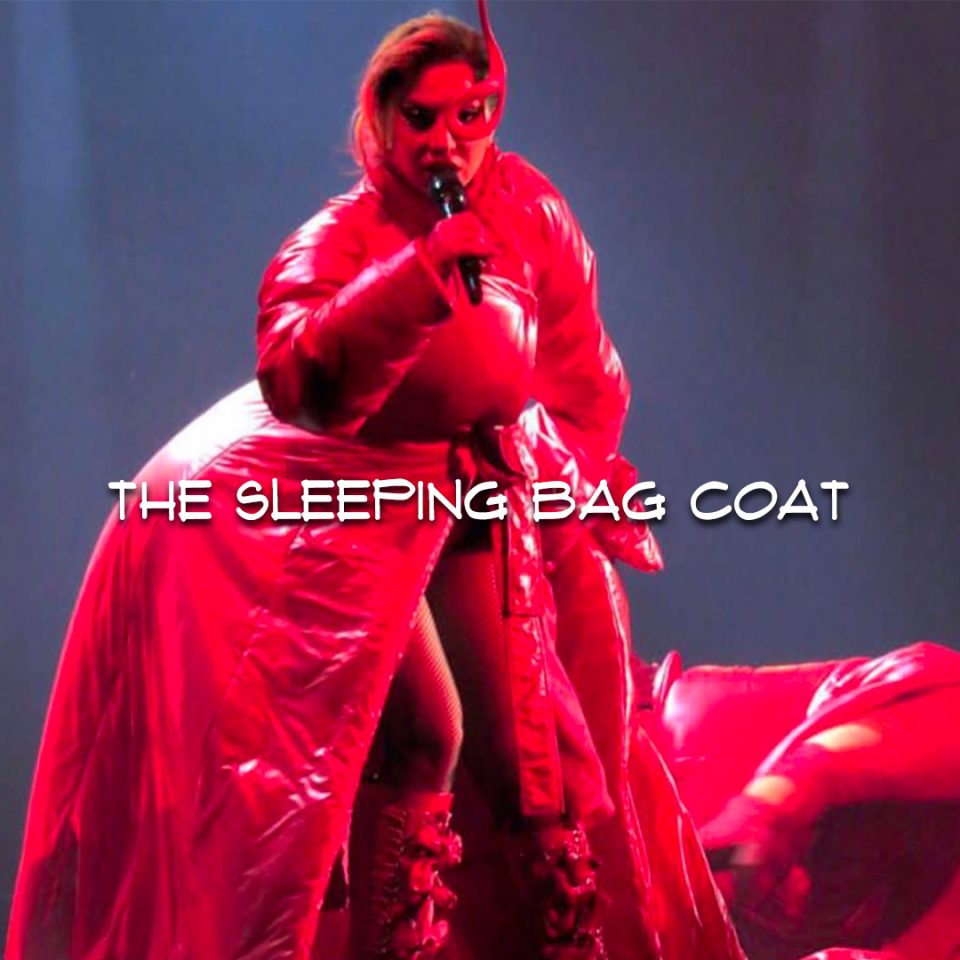 THE SLEEPING BAG COAT
THE SLEEPING BAG COAT CAME ABOUT ON A CAMPING TRIP IN THE EARLY SEVENTIES. I CAME HOME AND CUT UP MY SLEEPING BAG INTO A COAT, AND THE COAT HAS BEEN A TIMELESS COMMODITY IN MY COLLECTIONS EVER SINCE.
THERE ARE TIMES WHEN THE COAT WAS FAMOUS ON ITS OWN – FOR EXAMPLE AT THE DOOR OF STUDIO 54 WHEN STEVE RUBEL AND THE GUYS AT THE DOOR OF STUDIO ALL WORE MY COATS THROUGH THE COLD WINTER MONTHS.
THE TECHNOLOGY USED TO MAKE SLEEPING BAGS IS TAKEN FROM NASA-DEVELOPED TECHNOLOGY FOR ULTRA WARMTH: CREATE AN AIR POCKET BETWEEN TWO LAYERS OF FIBERFILL AND THE HEAT THAT IS EXPELLED FROM THE BODY EXCHANGES WITH THE COLD AIR IN THE POCKET BETWEEN THE LAYERS. THE RESULT IS EXTREME WARMTH.
THE COZY FACTOR AND THE TIMELESS PRACTICALITY HAVE MADE THIS COAT A STAPLE IN MY WARDROBE AND IN MY COLLECTION.
AFTER 9/11, NEW YORK CITY SHUT DOWN. I CLOSED UP SHOP FOR TWO WEEKS BUT FOUNDS LOTS OF VOICE MESSAGES ASKING FOR THE SLEEPING BAG COAT WHEN I RETURNED. TO MY SURPRISE THE INTEREST INCREASED AS EACH DAY WENT BY EVEN THOUGH IT WAS A MUGGY SEPTEMBER. WE REOPENED GOT OUR FACTORY UP AND RUNNING AND CUT SLEEPING BAG COATS – NOT NECESSARILY FOR COMFORT BUT I BELIEVE MORE FOR THE COCOONING EFFECT.
THE DESIRED TREND SILHOUETTES IN THE FASHION INDUSTRY GO FROM NARROW AND SMALL TO OVERSIZED, AND THIS COAT SURVIVES ALL TRENDS. THE PUFFER COAT TREND THAT IS NOW A STAPLE BY ACTIVE OUTERWEAR COMPANIES HAS GIVEN TRIBUTE TO THE COAT AS THE GRANDFATHER CONCEPT.
THIS FALL, THE MUSEUM OF MODERN ART WILL FEATURE THE COAT IN ITS EXHIBIT, AS WILL THE MUSEUM AT FIT ITS OWN EXHIBITION ABOUT EXTREME ELEMENTS. LADY GAGA IS ON TOUR NOW, WITH CUSTOM RED SLEEPING BAG COATS FOR HER AND HER DANCERS OVER CATSUITS AS UNDERPINNINGS.
HER TEAM, HEADED BY BRANDON MAXWELL, CAME UP WITH THE IDEA AND WE TOOK IT FROM THERE TO MAKE THE VISION REAL!! THANK YOU TO ALL WHO HAVE A SLEEPING BAG COAT STORED IN YOUR CLOSET.
TAKE GOOD CARE OF YOUR COAT AND IT WILL TAKE GOOD CARE OF YOU!