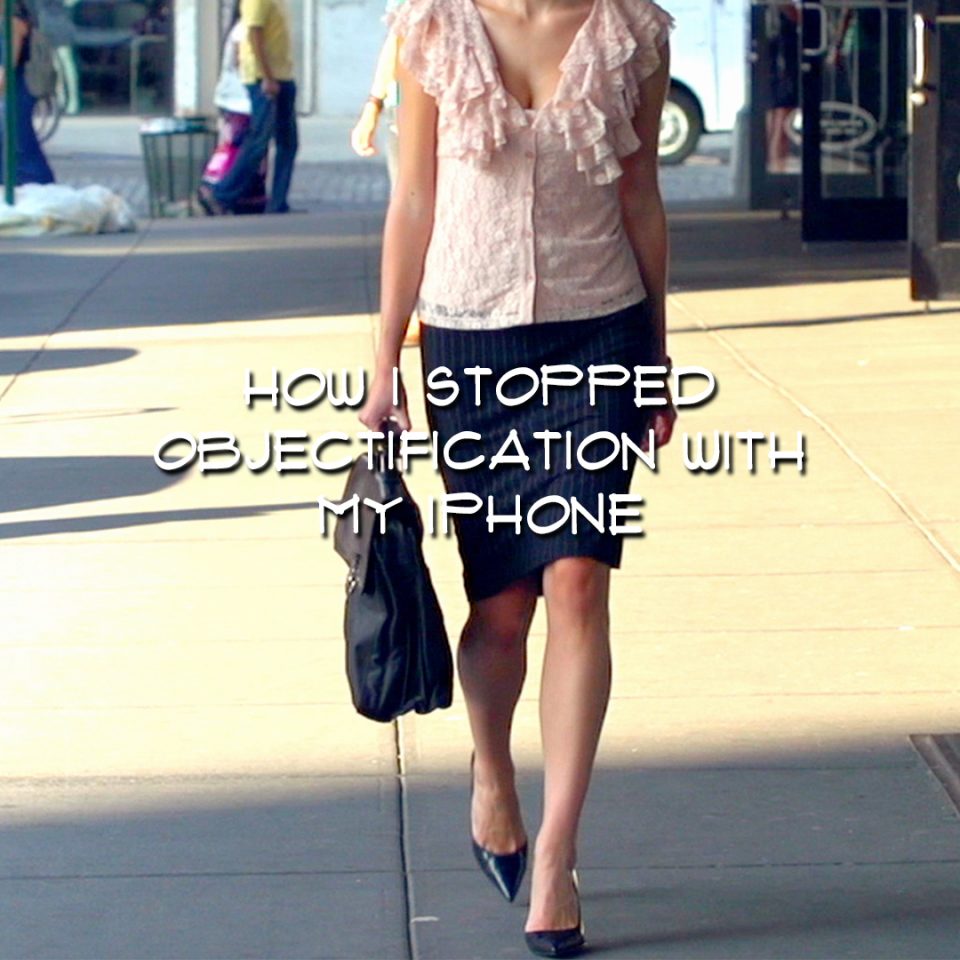 HOW I USED MY IPHONE TO STOP OBJECTIFICATION
I HAVE BEEN A STRONG PROPONENT OF BRINGING AWARENESS TO OBJECTIFICATION AND HOW FREQUENTLY IT OCCURS IN A WOMAN'S LIFE.
THERE HAS NEVER BEEN RECOURSE FOR WOMEN EXCEPT TO ACCEPT IT AND SILENTLY MOVE FORWARD.
I BELIEVE THE REPEATED ASSAULT ON OUR SELF-ESTEEM THROUGH OBJECTIFICATION IN THE END IMPAIRS THE ABILITY OF WOMEN TO REACH HER POTENTIAL.
WE ALL HAVE PAINFUL STORIES OF HUMILIATION AND EMBARRASSMENT THAT HAVE REMAINED SECRETS SIMPLY BECAUSE THE RETELLING OF THE INCIDENTS OF OBJECTIFICATION IS DIFFICULT. NOT TOO LONG AGO A MEMORY OF MY FIRST WORK PLACE OBJECTIFICATION OPENED SO MUCH INSIGHT INTO THE PATH I HAVE TAKEN.
AS A SCHOLARSHIP GRADUATE OF FIT, I WAS QUITE PROUD OF MY PORTFOLIO AND SO LOOKING FORWARD TO MY JOB INTERVIEWS.
OFF I GO, READY FOR MY FIRST INTERVIEW. I REVIEWED MY PORTFOLIO OVER AND OVER, TRIED ON MANY OUTFITS TO PICK THE BEST FOR THE INTERVIEW. I ENTER THE OFFICE OF THE PRINCIPAL IN A GARMENT CENTER COMPANY NEEDING A SKETCH ARTIST. HIS FEET ARE UP ON THE DESK AND HE IS EATING A TUNA SANDWICH.
HE INSTRUCTS ME TO PUT MY PORTFOLIO DOWN AND COME FORWARD AND TURN AROUND FOR HIM. I WAS STUNNED AND FELT HE CLEARLY HELD THE POWER IN THE ROOM AND I TURNED AROUND. HUMILIATED AND EMBARRASSED, I RAN OUT OF HIS OFFICE IN TEARS WITH MY PORTFOLIO. I NEVER TOLD ANYONE THE STORY, OR EVEN ALLOWED MYSELF TO REMEMBER IT UNTIL FIVE YEARS AGO. THAT INCIDENT IN THE GARMENT CENTER CLEARLY INFLUENCED MY DECISION NOT TO BE AN ILLUSTRATOR IN THE FASHION INDUSTRY BUT TO TRAVEL BY GETTING A JOB AT THE AIRLINES. I LEARNED OFFICE SKILLS AND SALES AND DISCOVERED MY DESIGN ABILITY AS A FASHION DESIGNER BY BEING IN LONDON AT THE DAWN OF THE 60'S REVOLUTION.
WE NO LONGER NEED TO REMAIN SILENT OR PASSIVE.
THE NEGATIVE POWER OF OBJECTIFICATION CAN BE NEUTRALIZED BY DOCUMENTING THE ACTION AND THE PERSON COMMITTING THE ACT. I BELIEVE VERY STRONGLY THAT A CAT CALL OR INTERACTION THAT IS OBJECTIFYING SHOULD BE DOCUMENTED WITH THE PROSPECT OF SHARING WITH OTHERS IF NEED BE.
EXPOSING OBJECTIFICATION AND EVEN THE POTENTIAL OF IT IS PART OF NEUTRALIZING THAT NEGATIVE POWER.
WE ARE ALL VERY COMFORTABLE TAKING PHOTOS THROUGHOUT THE DAY OF THINGS WE LOVE; DOCUMENTING DIFFICULT SITUATIONS WITH MOBILE DEVICES IS SLOWLY BECOMING THE NORM AS WELL.
FOR EXAMPLE:
IF YOU ARE WALKING DOWN THE STREET AND A TOTAL STRANGER YELLS OUT A STUNNING COMPLIMENT OR A HEY BABY SLUR, EITHER WAY YOU ARE THE OBJECT OF OBJECTIFICATION. NO ONE WANTS HIS DAUGHTER, SISTER, MOTHER, OR WIFE OBJECTIFIED. THE FEELING THAT THIS IS DISRESPECTFUL IS REAL.
TO HOLLA BACK IS NOT THE ANSWER, TO EXPLAIN RESPECT AND HOW IT FEELS TO BE OBJECTIFIED IS NOT YOUR RESPONSIBILITY.
AN ADULT MADE THAT IRRATIONAL CHOICE TO CAT CALL AND THEREFORE THE ACTION HAS RESPONSIBILITIES. VIOLENCE OF ANY KIND IS CERTAINLY NOT THE ANSWER EITHER, NO MATTER HOW MUCH GYM TIME YOU PUT IN AND HOW FIT YOU ARE.
WE ALL HAVE A PEACEFUL SOLUTION IN THE PALM OF OUR HANDS.
YOUR IPHONE HAS THE SAME EFFECT AS A STUN GUN. YOU SHOOT A PHOTO AND NOW THE BEHAVIOR IS DOCUMENTED. YOU VIDEOTAPE AND AGAIN IT IS DOCUMENTED. THE OFFENDER IS NOW IN THE POSITION OF BEING HELD RESPONSIBLE FOR HIS ACTIONS.
HIS FAMILY, FRIENDS, AND CO-WORKERS MIGHT SEE THIS BEHAVIOR SHOULD YOU DECIDE TO SHARE IT. THE CONCERN THAT THE PHOTO AND THE STORY COULD BE PART OF A BLOG OR SOCIAL MEDIA MEANS YOU HAVE A VOICE AND YOU CAN CHOOSE TO USE IT OR NOT.
THE ONE THING FOR SURE IS HE WILL THINK TWICE ABOUT RESPECT AND HOW IT FEELS TO HAVE THE POWER IN SOMEONE ELSE'S HAND.
I HAVE BEEN SUGGESTING THIS FOR YEARS NOW TO WOMEN WHO HAVE BEEN POWERLESS TO OBJECTIFICATION.
THERE IS ALWAYS A WAY TO DOCUMENT INCIDENTS WITH YOUR MOBILE DEVICE, AND MOST LIKELY PROTECT YOU, IF NEED BE IN TRUTH TELLING. MOST IMPORTANT, THE MORE WE USE THIS PROTECTOR/PEACEMAKER THE LESS MEN WILL BEHAVE INAPPROPRIATELY.
I HAVE MANY YEARS AND MANY STORIES OF OBJECTIFICATION. SOME STORIES ARE STILL TOO PAINFUL TO RETELL. THE MORE WE FREE OURSELVES OF THE SECRETS THE LESS IMPACT THERE IS ON OUR SELF-ESTEEM. THE MORE WE SHARE OUR STORIES THE MORE WE INSPIRE OTHERS TO DO THE SAME.
HERE IS MY STORY ABOUT HOW I USED MY IPHONE TO STOP OBJECTIFICATION:
I BOUGHT MY BUILDING IN 1982 AND IT SERVES ME WELL FOR ALL ASPECTS OF MY BUSINESS. THERE IS A WINDOW OUT FRONT 15 FEET BY 10 FEET THAT SITS ON A 4-INCH WAIST-HIGH LEDGE OF A GLOSSY WHITE FACADE.
THERE IS A MAJOR CONSTRUCTION SITE ADJACENT TO MY BUILDING WITH THE FREIGHT ELEVATOR ENTRANCE RIGHT NEXT DOOR. EVERY MORNING THE CREW FROM DIFFERENT TRADES HAVE BREAKFAST ON THE LEDGE IN FRONT OF MY BUILDING, LEAVING THEIR WRAPPINGS AND FOOD, AS WELL AS CIGARETTE BUTTS, BEHIND. THEN AT LUNCH IT REPEATS.
WE COMMUNICATE WITH THE MANAGEMENT AND IT GETS BETTER, AND THEN A NEW TRADE ARRIVES AND IT STARTS OVER AGAIN.
I GET IN VERY EARLY EACH MORNING AND I POLITELY EXPLAIN TO THE GUYS THAT IT IS MY BUILDING, I WORKED HARD TO PAY FOR IT AND PLEASE CLEAN UP, PLEASE DO NOT USE THE LEDGE.
IN THE LAST FEW WEEKS I NOTICED THE FOREMAN OF ONE OF THE TRADES LEANING ON THE LEDGE EVERY MORNING. HE SMOKES A CIGAR AND HOLDS COURT WITH A GROUP OF GUYS WHO ARE HAVING BREAKFAST. HE SITS IN THE SAME SPOT AND WILL NOT MAKE EYE CONTACT WITH ME.
ONE MORNING THERE WAS A GROUP OF GUYS AND A BIG MESS – SPILLED COFFEE, ETC. AS I OPEN THE FRONT DOOR I ASK THE GUYS TO PLEASE TREAT THE BUILDING FACADE AS IF IT WERE THEIR CAR. THEY ALL LEAVE POLITELY, THE FOREMAN REMAINS. I APPROACH HIM, AND AS HE SEES ME COME OVER, HE LOOKS INTO HIS MOBILE DEVICE AND IGNORES ME.
I PRESENT MYSELF AND ASK THAT WE TALK FOR A MINUTE.
HE, IN TIME, TELLS ME HE IS BUSY. I REPEAT MY STORY ABOUT MY BUILDING AND I ASK THAT HE NO LONGER PUT OUT HIS CIGAR ON THE FACADE AND ADDRESS THE FOOD LEFT ON THE LEDGE. HE VEHEMENTLY DENIES IT ALL.
I ASK THAT HE RELOCATE HIS MEETINGS TO THE FRONT OF THE BUILDING HE IS WORKING ON. HE TELLS ME HE CAN STAND WHEREVER HE WANTS AND THAT I AM FALSELY ACCUSING HIM. HE STARTS USING HIS BODY WEIGHT TO MOVE INTO MY SPACE. I TAKE A PHOTO AND HE LOSES HIS MIND. HE TRIES TO GRAB MY PHONE. HE NOW STARTS BULLYING ME AND TWO OTHER WORKERS COME UP BEHIND HIM AND THEY ARE WALKING TOWARDS ME SAYING I CAN'T TAKE HIS PHOTO. I TELL HIM HE IS A BIG BULLY AND ASK IF THEIR INTENTION WAS TO BEAT ME UP, THREE GUYS AGAINST ONE WOMAN?
I KNEW IT WAS BEST TO GO INTO THE BUILDING AND REPORT THIS GUY USING THE PHOTOS I HAD TAKEN.
AS I ENTERED THE BUILDING, HE STOOD IN THE DOORWAY AND PUFFED BILLOWING SMOKE FROM HIS CIGAR WITH THE TWO OTHER GUYS BY HIS SIDE.
I SENT THE PHOTO AND AN ACCOUNT OF WHAT HAPPENED TO THE MANAGEMENT, PLACING AN OFFICIAL COMPLAINT WITH THE POLICE DEPARTMENT AS WELL. THE POLICE AND MANAGEMENT SPOKE WITH HIM – EVERYONE AGREED THAT HAVING THE PHOTOS MADE ALL THE DIFFERENCE IN EXPEDITING AND AUTHENTICATING MY CASE.
WHATEVER WE CAN DO TO COMMUNICATE THAT IT IS NOT OK TO IMPOSE POWER OVER WOMEN DISRESPECTFULLY, WE SHOULD DO. IT MUST BE PEACEFUL AND EMPOWERING. THIS SHOULD HAPPEN IN ANY SOCIAL SETTING, IN A BUSINESS SITUATION, OR QUITE FRANKLY ANYWHERE. THINK ABOUT YOUR IPHONE WHEN YOU ARE BEING OBJECTIFIED AND HOW YOU CAN NEUTRALIZE THE OBJECTIFICATION BY SIMPLY USING IT! YOU NOW HAVE RECOURSE: THE POWER IS IN THE PALM OF YOUR HAND.
Photo Credit: Ruth Orkin "American Girl in Italy" 1951