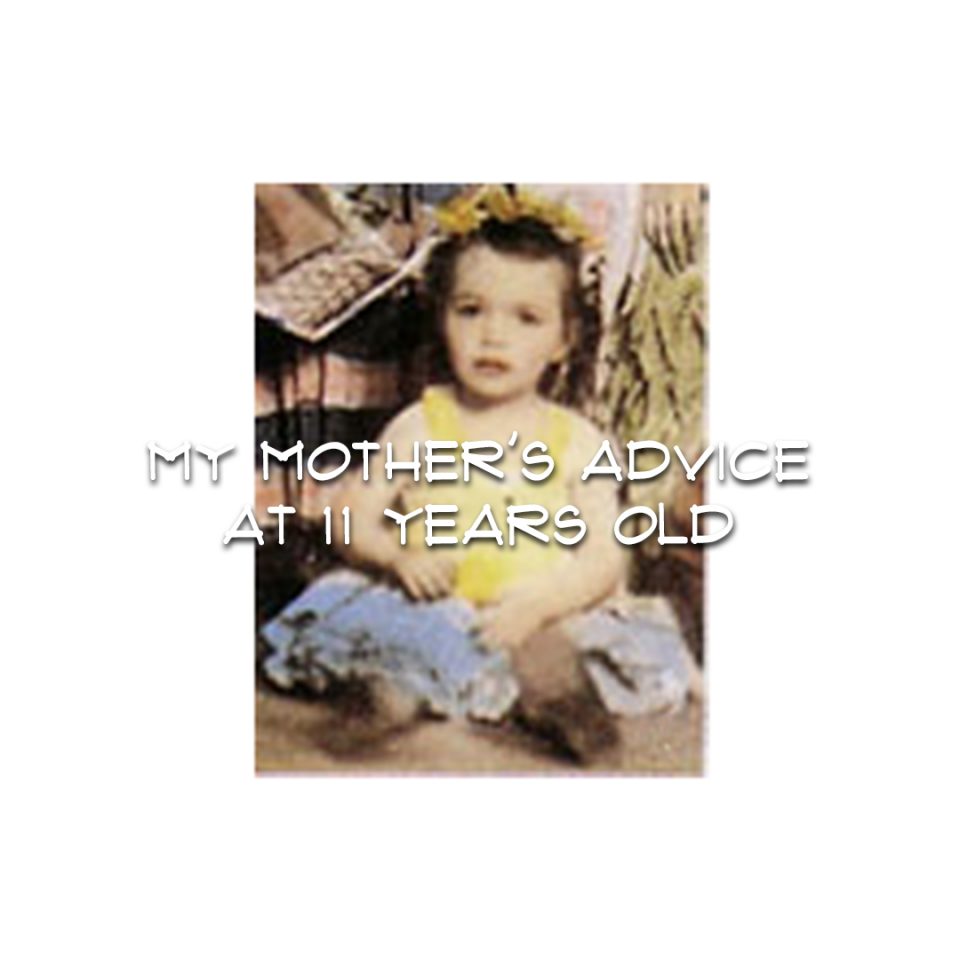 MY MOTHER'S ADVICE
BE INDEPENDENT,
LEARN HOW TO EARN YOUR OWN WAY,
THEN YOU CAN CHOOSE SOMEONE YOU LOVE VERSUS SOMEONE WHO HAS TO TAKE CARE OF YOU
I REMEMBER STANDING WITH MY MOTHER NEXT TO A WASHING MACHINE SHE HAD RECEIVED AS A GIFT FOR MOTHER'S DAY. IT WASN'T ONLY THE WASHING MACHINE THAT INSPIRED MY MOTHER'S WISE WORDS OF ADVICE, IT WAS THAT HER POTENTIAL WAS SO MUCH GREATER, AND SHE WAS REALIZING THAT SHE WOULD NOT REACH THAT POTENTIAL IN HER LIFETIME. HER TALENTS RAN THE GAMUT – FROM CREATIVITY TO FINANCES. SHE WAS NEVER AT A LACK FOR INSPIRATION.
MY MOTHER WAS A VERY UNIQUE INDIVIDUAL, DEFINITELY NOT LIKE ANYONE ELSE'S MOM. I AM NOT SURE THAT SHE WAS THE MOST MATERNAL OR NURTURING TYPE OF MOTHER, BUT SHE WAS CREATIVE, ADVENTUROUS AND SAW NO BOUNDARIES IN HER LIFE. SHE WAS AHEAD OF HER TIME IN EVERY WAY AND WAS CLEARLY BORN TO A GENERATION WHERE WOMEN WEREN'T MEANT TO BE LEADERS, BUT SHE WAS A LEADER IN HER APPROACH TO TAKING CHARGE OF HER LIFE.
SHE DIVORCED MY FATHER AT A TIME WHEN PEOPLE JUST DIDN'T GET DIVORCED. THIS WAS AN ESPECIALLY BOLD MOVE IF YOU WERE LIVING IN AN IRISH CATHOLIC NEIGHBORHOOD AND THE CHURCH WAS A BIG PART OF THE MINDSET OF THE COMMUNITY.
SHE REMARRIED THE ONLY JEW IN THE NEIGHBORHOOD, THE MAN THAT OWNED THE CANDY STORE. BEFORE WE KNEW IT, WE WERE EATING BAGELS, SHE WAS MAKING GEFILTE FISH, AND WE WERE DRIVING TO MIAMI EVERY WINTER HOLIDAY. WE WERE LIVING IN, AND EASILY ADAPTED TO, ANOTHER MINDSET AND BELIEF SYSTEM. AND WE DID SO SEAMLESSLY BY HER EXAMPLE.
MY MOTHER LITERALLY TRANSFORMED THE CANDY STORE, WHICH, BY THE WAY, IN THE 50'S WAS THE CENTER OF EVERYONE'S UNIVERSE. IT IS WHERE THE TELEPHONES AND ALL THE NEWSPAPERS AND MAGAZINES WERE. MANY FOLKS DID NOT HAVE A HOUSE PHONE AND THIS WAS WHERE YOU CAME TO MAKE CALLS AND RECEIVE CALLS.
OMG! IT'S ALMOST HARD FOR ME TO BELIEVE WHAT I AM WRITING, BUT IT IS TRUE. MY MOTHER'S TRANSFORMATION OF THE CANDY STORE'S SPACE WAS SUCCESSFUL AND THEY EXPANDED TO AN ADJACENT STORE.
SHE WAS A REAL PARTNER AND A DRIVING FORCE IN ALL THE NEW ADDITIONS THAT MADE THE STORE ABOUT MORE THAN JUST CANDY.
I KNOW THAT IF SHE WERE BORN AT ANOTHER TIME SHE COULD HAVE RUN A COMPANY AND BEEN A BUSINESS POWERHOUSE. MY MOTHER'S EXAMPLE WAS ALL I KNEW GROWING UP. WHILE I WASN'T QUITE SURE I FULLY UNDERSTOOD HER ADVICE AT THE TIME IT WAS GIVEN, I SURE DID LATER ON.