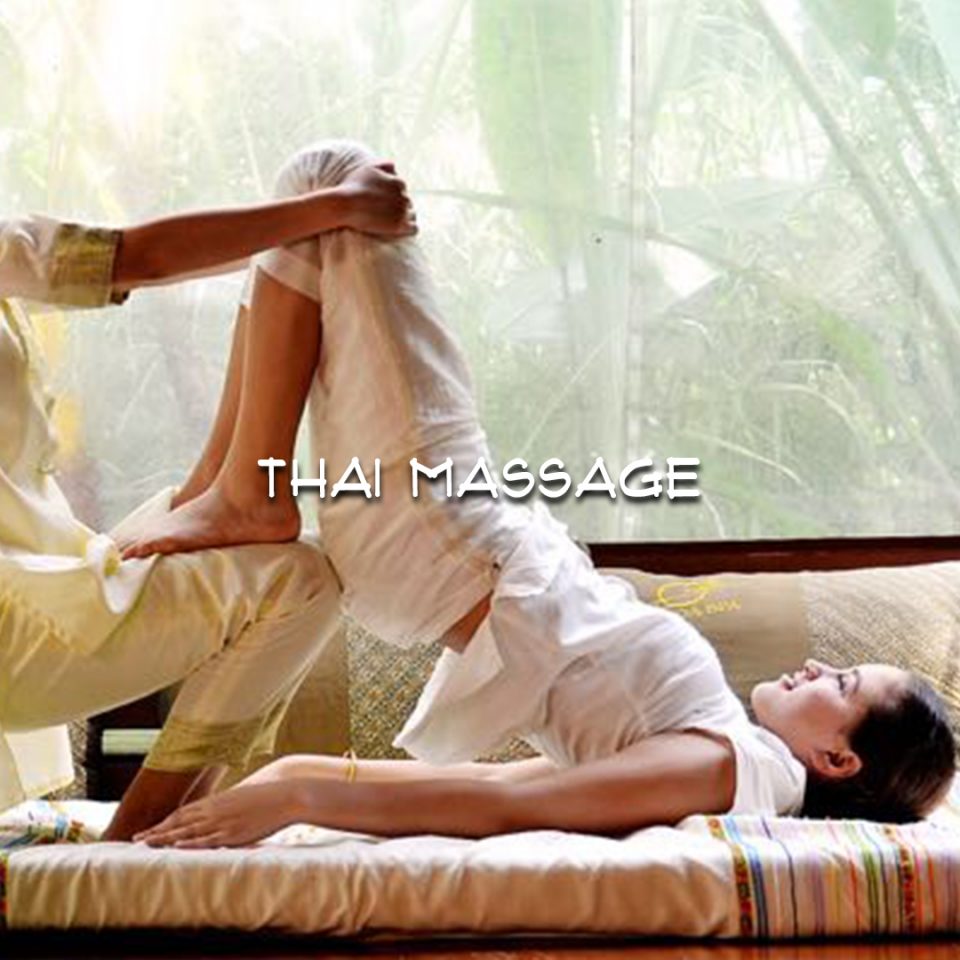 THAI MASSAGE
I AM A BIG FAN OF STRETCHING AND FLEXIBILITY AS A SIGNIFICANT PART OF FITNESS. THERE ARE MANY AMAZING WORKOUTS AND THEY ARE SUCH AN IMPORTANT PART OF WELLBEING. IF YOU CAN TOUCH YOUR TOES EASILY, THAT IS ANOTHER SIGN OF FITNESS. THE TOUCH YOUR TOES ANALOGY IS SYMBOLIC. WHAT I AM SAYING IS THAT FLEXIBILITY IS IMPORTANT FOR BALANCING OUT YOUR FITNESS REGIME, AND IT'S ALSO IMPORTANT TO PREVENT INJURIES. 
A GOOD STRETCH SESSION IS OFTEN NEGLECTED AFTER A WORKOUT. IT USUALLY HAS A LOT TO DO WITH HOW MUCH TIME WE HAVE AS WE ARE ALREADY SQUEEZING IN WORKOUT TIME INTO OUR INSANELY COMPLICATED SCHEDULES.
MASSAGES ARE NORMALLY PLANNED AND WORKED INTO VACATIONS, AND FOR MOST PEOPLE, A RANDOM ADDITION TO THE SCHEDULE. WE KNOW HOW GOOD THEY ARE FOR US, AND WE LIKE THE RELAXED RESTORATIVE RESULTS, BUT WE DON'T LOOK AT MASSAGES AS A NECESSITY.
A THAI MASSAGE MAY BE THE BEST OF ALL WORLDS. YOU ARE STRETCHED, YOU BREATHE, AND YOU ARE AN ACTIVE PARTICIPANT IN THE MASSAGE AND THE RECIPIENT OF A HEALING STRETCH. THE BREATHING IS MEDITATIVE AND THE RELEASE OF TOXINS AND STRESS OPEN THE FLOW, EASE PAIN AND ENCOURAGE FLEXIBILITY.
IT IS INCREDIBLY HELPFUL FOR ME MENTALLY AND PHYSICALLY, AND FOR THE PERCEPTION OF MY POWER AND THE STRENGTH, TO WORK OUT EVERYDAY.  A THAI MASSAGE IS SO IMPORTANT TO HELP STRETCH PROPERLY AND THE PRESSURE HELPS OPEN THE BLOOD FLOW. I FEEL TOTALLY RELAXED RESTORED AND FLEXIBLE AFTER A THAI MASSAGE.
I MET GILLES, A FRENCHMAN WHO WAS HIGHLY RECOMMENDED FOR A GREAT THAI MASSAGE. HERE IS A QUICK TIP FROM GILLES ABOUT WHAT YOU CAN DO THAT HELPS FLEXIBILITY AND CREATES A MINI THAI SELF-MASSAGE AT HOME.
SIT CROSS-LEGGED. PLACE YOUR FOREARM PERPENDICULARLY ON YOUR SAME-SIDE QUAD. USE YOUR ULNA BONE (BACK OF THE FOREARM) TO ROLL OUT ALONG THE INSIDE OF YOUR QUAD, REPEATING ALL THE WAY UP TO YOUR KNEE.