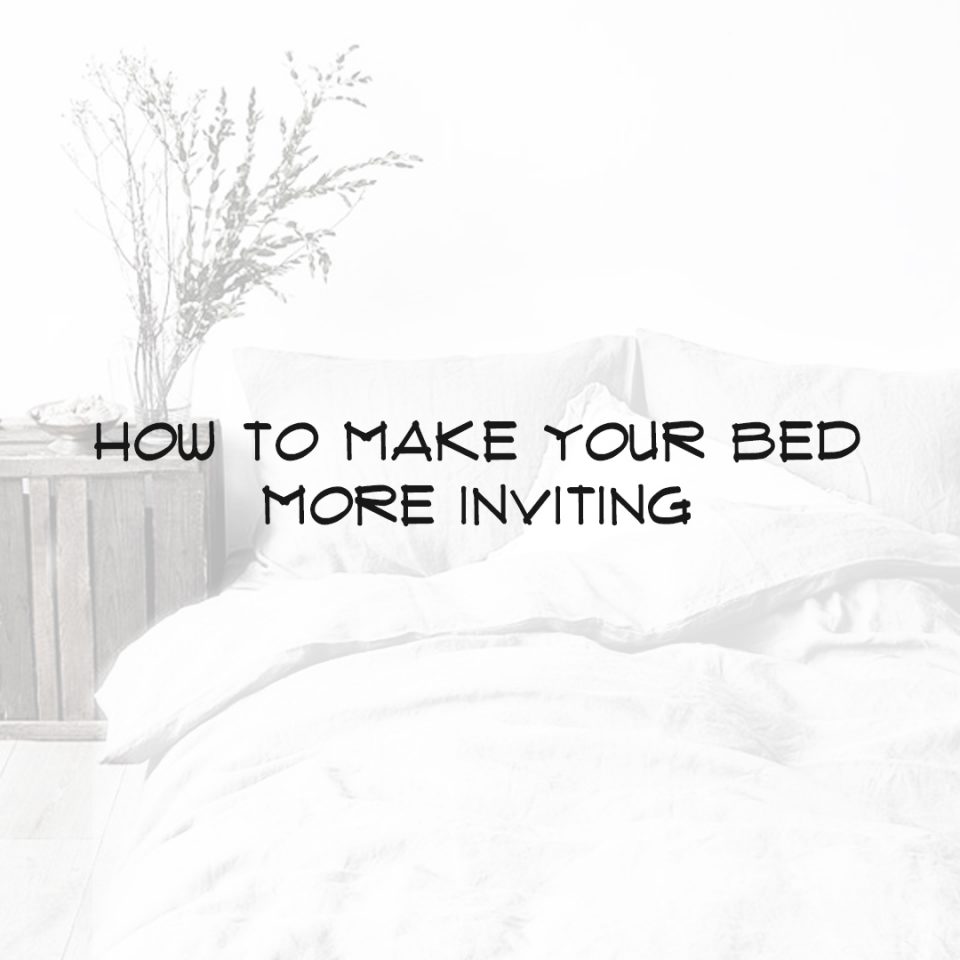 MAKE YOUR BED…..
THERE HAVE BEEN STUDIES BY EXPERTS IN WELLNESS AND THE CASE IS BEING MADE THAT, OF GOOD FOOD, EXERCISE AND SLEEP – THE THREE KEY FACTORS IN WELLNESS – SLEEP IS THE MOST IMPORTANT.
THEREFORE, WHERE YOU SLEEP AND WHAT YOU DO TO CREATE A SPECIAL PLACE FOR SLEEP IS PROBABLY MORE IMPORTANT THAN YOU REALIZED AND HAVE PUT EFFORT INTO ESTABLISHING FOR YOURSELF.
THE BED IS IT. SHOP FOR A MATTRESS THAT MAKES YOU FEEL ENVELOPED YET SUPPORTED.
WHAT HEIGHT DO YOU PREFER OFF THE FLOOR? FOR SOME, HIGH BEDS ARE UPLIFTING, AND FOR OTHERS, LOW TO THE FLOOR IS MODERN AND GROUNDING. THERE IS NO RIGHT OR WRONG. THE BED MUST BE YOUR TEMPLE. THE SHEETS, THE TEXTURE, THE COLOR, COMFORTERS, THE BLANKETS, THE TYPE OF PILLOWS, HOW MANY PILLOWS, THEY ALL MATTER! THE COLOR OF THE WALLS, THE AMOUNT OF THINGS IN YOUR BEDROOM NOT HAVING TO DO WITH SLEEP, THOSE MATTER TOO. DO YOU NEED TO HAVE THEM IN THE BEDROOM? CLEAR OUT THE DISTRACTIONS AND ONLY HAVE WHAT YOU NEED FOR A GOOD NIGHT'S SLEEP IN THE BEDROOM.
THE HEAT OR COOLNESS OF THE ROOM. THE SCENT IN THE ROOM, THE LIGHT IN THE ROOM AND THE SHADES TO BLOCK OUT LIGHT! SOUND OR LACK OF SOUND SHOULD BE ON THE CHECKLIST.  ALL OF THESE MATTER SINCE SLEEP HAS EVERYTHING TO DO WITH HEALTH, MENTAL FITNESS, BODY WEIGHT, AND WELLNESS.
THEN YOU NEED TO THINK ABOUT WHAT YOU ARE EATING BEFORE YOU GO TO BED. CAFFEINE AFTER NOON MIGHT AFFECT SOME FOLKS, SO BEST TO NOT TAKE A CHANCE AND STICK TO A CUT OFF TIME FOR STIMULANTS. HOW LATE IS YOUR LAST MEAL? BEST ADVICE IS NO FOOD SEVERAL HOURS BEFORE BEDTIME. EATING EARLY IS MY HEALTH AND WELLNESS ADVICE.
LIMIT LIQUIDS BEFORE BEDTIME AS WELL TO PREVENT VISITS TO THE BATHROOM IN THE NIGHT. A DAILY WORKOUT ROUTINE IS A DEFINITE PLUS FOR PREPARING THE BODY FOR A RESTORATIVE SLEEP.
THE TEMPERATURE, THE SCENT, THE LIGHT, OR LACK OF, THE COMFORT OF THE BED, AND THE ROOM ITSELF ARE SO IMPORTANT TO A GOOD NIGHT'S SLEEP. THE BIG CHALLENGE NOW IS HOW FAR AWAY OUTSIDE OF THE BEDROOM YOU CAN PLACE YOUR MOBILE DEVICE! AND DO YOU SLEEP WITH A TV IN THE ROOM? ELIMINATING THE STIMULATION IS NOT JUST WHAT YOU CONSUME IN THE DAY BUT GIVING IT A CUTOFF TIME BEFORE BED TIME.
WISH ME LUCK!!